Get to Know: Frank Grundstrom, Partner Since 2008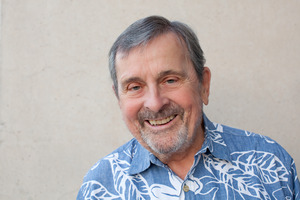 Frank, who is now happily retired, went to Boston University on the GI Bill after serving in the US Air Force for four years, one of them in Korea. He worked as a reporter and editor at four New England newspapers, culminating 32 years at the Boston Globe, 16 of them as an editor and 16 as VP for Human Resources. While at the Globe, he helped found an exchange program between U.S. and Soviet journalists in the early 1980s. He shared his experience in journalism as a mentor to University of Massachusetts Journalism Department students. He has been extensively involved as a community volunteer. Frank is always up for a good show, good book, good movie, or good wine with a side of interesting people. He is a "Globe" trotter (forgive the pun, Frank) and hopes to spend some time in France soon with his wife, Cynthia Dickstein.
Q: What has been your most valuable experience with SVPGT thus far?
A: In addition to meeting a lot of really nice people, it would be learning first hand through the Investment Committee about the wide spectrum of literacy organizations in Tucson.
Q: Where is your favorite hiking spot near Tucson? What is unique about it?
A: The Rattlesnake Trail in Sabino Canyon … first trail where the incredible Gila monster lumbered across right in front of me.
Q: What was the best piece of advice you ever received? From whom?
A: As a young newspaper reporter, fresh out of college, my editor told me, "Keep your head down and work — don't play office politics; it'll hurt you in the long run."
Q: If I could choose one new talent to instantly acquire, it would be ____.
A: The ability to speak French.