Get to Know: Cynthia Dickstein, Partner Since 2008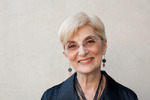 Cynthia Dickstein has worked in private sector, non-political international professional exchanges with the USSR and Iran since 1979. Cynthia until recently served on the Board of Access Tucson, was the founder and Chair of People for Access Tucson Foundation, Inc., and was the host of Access Tucson's TV show "Political Perspectives." In addition, she is a writer, having published most often on the Op Ed pages of the Boston Globe since 1980.
Q: What was the best vacation you ever took? Who was with you? What did you do?
A: My husband Frank (Grundstrom) and I have taken many wonderful trips. Two stand out, in large part because of the spectacular animal life…an Abercrombie and Kent camping safari in Kenya, back in the 1990′s, and a recent National Geographic/Lindblad polar bear expedition in the Arctic and Svalbard, Norway.
Q: What is your favorite place that you have ever lived? Why is it your favorite?
A: Tucson, because of the weather, and the closeness to nature….certainly not because of the politics!
Q: Have you ever met a celebrity or public figure? Tell about the experience.
A: Yes, many, since I lived in Los Angeles for quite awhile and routinely met people in the film industry. But perhaps most interesting to me were three people, all in the political sphere, all of whom I met while working in my field of international professional exchanges. George Soros….who through his foundation partially funded my visiting delegation of Iranian journalists in 1998 and invited us all to his home in Manhattan; Shirin Ebadi, who I interviewed while I was in Tehran, two years before she won the Nobel Peace Prize, and Eduard Shevardnadze, who I interviewed in Moscow when he was Mikhail Gorbachev's Minister of Foreign Affairs.
Q: My ideal night on the town in Tucson would include…
A: A midnight walk in Sabino Canyon, just after a heavy rain.